More!
The More Button brings you to a page with 4 tabs. They are as follows:
Now, back to the "Menu" tab on this page. Currently there are 5 useful buttons to choose aside from the others.
Invite Friends - Here is where you can collect your Blood Elf Mage rewards from having friends use your game ID and leveling. Also, by clicking My ID on this page you will see your game ID #
Gallery - This shows you all the cards you have seen in game. As of now the total cards is at 664. If a picture here has a "?" in it, that means you have not seen that card yet.
Change Nickname - You are able to Change your in game name at the cost of 500 Runes.
Fight Video - Here you can watch any dungeon battle that you previously saved. You can save up to 100 videos for future enjoyment. Also can delete any videos that you no longer want saved here.
Exchange Gift Bag - This is where you input any "Gift Code" that you ever receive.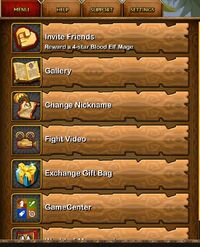 Return to Basics info
Ad blocker interference detected!
Wikia is a free-to-use site that makes money from advertising. We have a modified experience for viewers using ad blockers

Wikia is not accessible if you've made further modifications. Remove the custom ad blocker rule(s) and the page will load as expected.