Contribute is a function within a guild that can be accessed by achieving Lvl. 90 or by purchasing 20000 Runes. Once you are able to contribute, you can donate to your Guild and earn Reputation and DKP.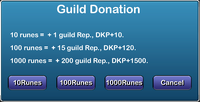 Return to Guild Info
Ad blocker interference detected!
Wikia is a free-to-use site that makes money from advertising. We have a modified experience for viewers using ad blockers

Wikia is not accessible if you've made further modifications. Remove the custom ad blocker rule(s) and the page will load as expected.